A friend at work recently purchased a new car.
Before too long, we were all engrossed in conversation, with everyone talking about their very first car.
Your first car is something special, something you never forget. And everyone's story about their first automobile is almost always unique and interesting.
When I was in high school, I had a few friends whose parents bought them brand new cars even before they had their drivers' licenses. Perhaps I was a little bit
jealous,
but that just never made a whole lot of sense to me. And in retrospect, it seems like having a
brand new
car as a first car would've taken away some of the fun and adventure of the whole experience.
My first car: The 1974 Ford Mustang V6.
It cost $1,400.00 in the year 1980, and I couldn't have been happier! There are few bonds more powerful than that between a teen and their first automobile!
It sounds pretty cool, having a Mustang as your first car.
And it was.
But the first thing you need to understand about the evolution of the Ford Mustang, is that the models from 1974 to 1978 were probably the
goofiest-looking
Mustangs ever
made!
(C'mon, just
look
at this thing!!!)
I think even
Ford
was hesitant to honor this car with the legendary name, because it was officially called "The Mustang II".
A true departure from its earlier incarnations, the Mustang II was more like a Pinto...or a Maverick than any of its high-performance predecessors. Mine had a blue vinyl top. I later had a sunroof installed...yep, I was
rollin' in style!
Jeez, I must've spent a
fortune
on Armor-All, trying to keep all that vinyl from oxydizing! (
Whose idea was it to put vinyl on the roof of a car anyway???)
And no mag wheels for me! No, sir! I flaunted those ever-stylish fake wire-spoke hubcaps with the authentic Ford logo in the center!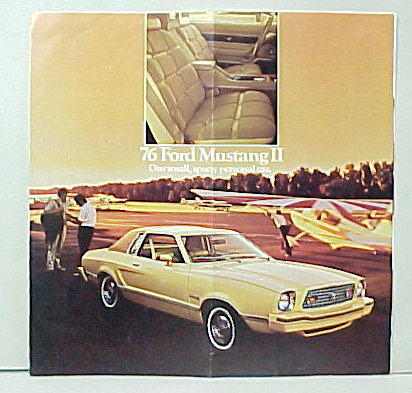 If you were
really
cool, you had the
Cobra
model with the
sport package
or the
removable top!
But....I wasn't that cool.
But I fitted my ride with the best am/fm cassette stereo I could afford (which, of course I installed myself), hung my
Class of 1980
tassle on the mirror, and I was truly a force to be reckoned with!
My road song was
The Wanderer
by Donna Summers. And rightly so, because this car and I went
everywhere!

Back then, gas was still under $1.00/gallon...
...So there was little stopping me from
answering
whenever the road called.
It wasn't incredibly fast, but it was my
freedom
. And I loved it.
Unfortunately, my little road warrior gradually became less and less able to overcome the fact that it was, indeed, well...
a Ford.
And it began to succumb to numerous mechanical problems.
The most interesting of these was an issue with the onboard computer module (back then they called it the "brain box"), which caused the engine to completely shut off
anytime, anywhere,
with absolutely no warning whatsoever. At 65mph on the freeway, the engine suddenly dies and with it go the power steering and power brakes! Yikes!!!
Even after replacing the module, the car continued to suffer from one mechanical ailment after another.
After no small amount of time spent under the hood, several episodes of getting stranded, and many opportunities to 'get out and push', I finally sold my little Mustang.
...and bought what?
Another Ford!
...A 1979
Mercury Capri!
(Some guys just never learn! )
But that's a story for another time.
Anyway, thank you for taking this walk down Memory Lane with me.
I'd love to know:
1. What was YOUR first car?
2. What was your FAVORITE car?
3. What was the WORST CAR YOU EVER OWNED?
Let me hear YOUR story!
-Marvin